Fossura
CASE STUDY
2023︎ BRANDING, WEB DESIGN, SOCIAL
Fossura is a (fictitious) paper manufacturer that uses mycelium to create luxury paper products, far exceeding traditional-paper competitors in terms of sustainability, durability, and quality. My inspiration for this project was my love of nature and sustainability, and especially fungi. I also wanted the opportunity to experiment without limits.
Objective
Crafting a unique brand experience, and drawing the target audience in through curiosity, extravagance, and a desire to be eco-friendly.
While there are companies creating mycelium packaging, none are creating mycelium paper. The idea of branding a product that doesn't exist yet was very exciting to me, and presented the opportunity to set the brand apart from companies in similar fields of interest: sustainable products, green marketing, etc.
T

he primary target audience

is artists pursuing durable paper. I felt a mysterious & sophisticated aesthetic would appeal to this audience most effectively—while still providing the necessary information and appeal to companies looking to divert from traditional packaging methods.
Result

A full visual identity including logo, business cards, website, packaging, and social media ads. My first solo branding project completed.
The Original Logo
My past mentor once advised me that when branding, always start with the logo—so this is what I did. I looked up mushroom illustrations and sketched some ideas out, then traced into Procreate and refined the logos in Illustrator.
top: brand tone notes, mushroom and logotype sketches.
bottom: the logo designs I originally decided on.
Research & Inspiration

With the logo completed, I sought inspiration for the visual identity. I created a
Pinterest Board
and gravitated towards: organic shapes and textures, earthy colors, and clean page designs with unique grid structures, to emphasize natural chaos instead of strict order.
right: moodboard, inspired by Pinterest board.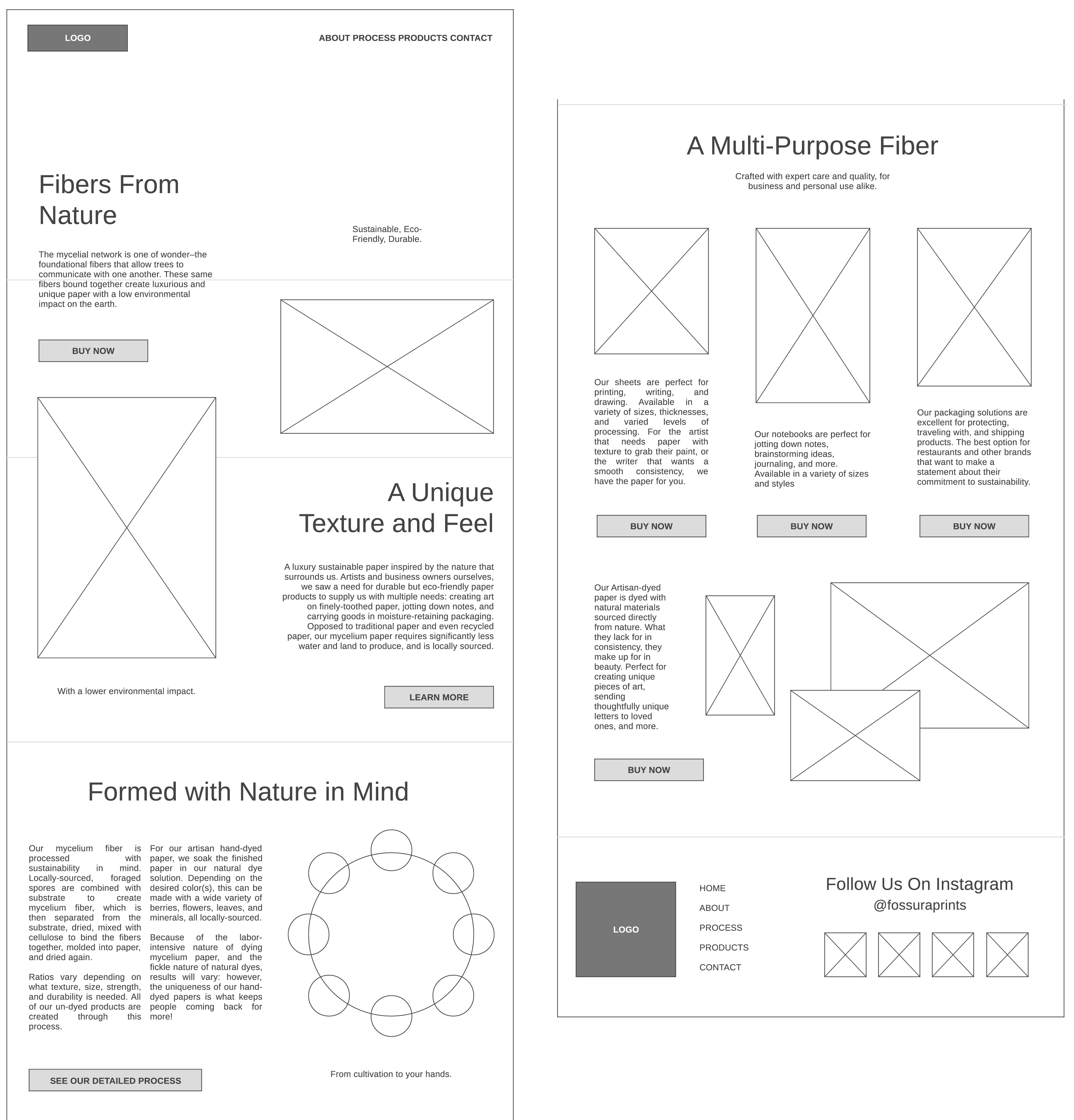 Wireframe

Designing the landing page before the business cards and packaging felt more intuitive to me, so I created a wireframe to layout the sections, and then the design.

Inspiration was taken from the unconventional editorial layouts I researched: this meant using grids, while also allowing the layout to loosely flow. Ample spacing and cascading elements helped achieve this.



Page Design

Overall I hoped to achieve a feeling of whimsical luxury with the landing page design.

Dark backgrounds evoke a feeling of entering a dark forest to forage. Close-up shots of fungi connect the viewer to nature. Creating and using mycelium spore prints added dynamic movement and texture.

In the "Formed with Nature in Mind" section, I created a circular infographic of the mycelium paper production process, representing the circle of life and providing an organic feeling.

right: finished page design and spore print. click images to enlarge.





Problems

I was struggling to find imagery that fit my brand tone so I decided to generate images with Dall-E instead. I used phrases such as "organic texture tan paper sitting on moss", and "natural edge paper dyed with flowers" to source over 30 images, which I used as product photography and background textures.

Additionally, I used ChatGPT to generate copy and ensure I didn't surpass the deadline I set for myself. I asked it to describe the mycelium paper making process to me, and to pitch the product. I edited this text and used it as copy for the page design.

disclaimer: this project was not for a client, which is why I used these programs.





Logo Redesign

My last problem: Once I had finished the page design and moved onto the business cards, the logo felt too fun and lighthearted to communicate the sophistication I needed. I decided it was worth redesigning.

I took a simpler approach to the logo by focusing on the text first. I chose my font and created an illustration to go with: a stamped mushroom. While this logo is seen in a few finished designs, I wanted my primary logo to be simpler. Rather than a line-heavy illustration, I created a vectorized mushroom and it took the place of the letter "o".

top: finished logo designs, bottom: mushroom illustration from sketch to Procreate to Illustrator.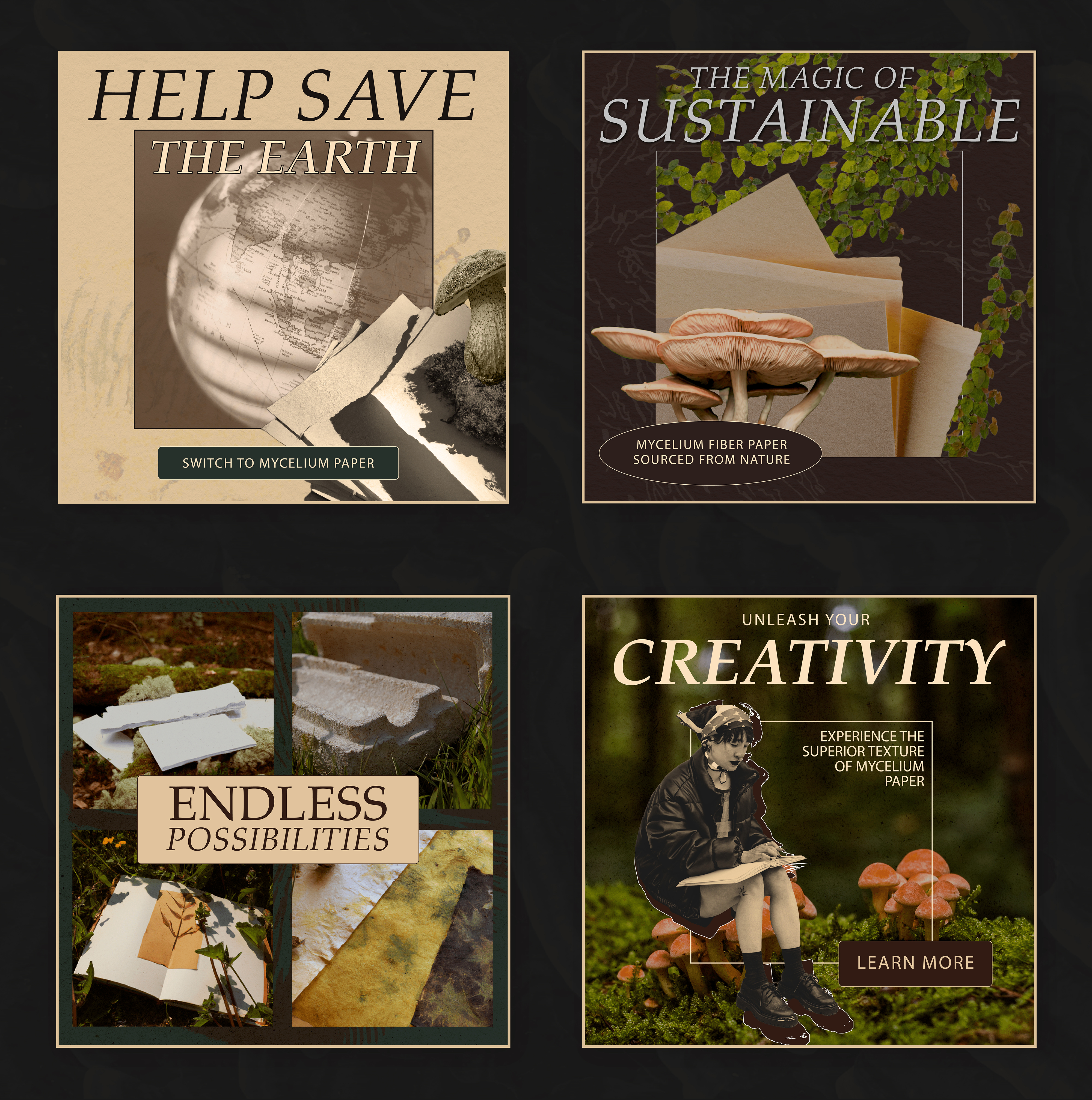 What Worked?


The logo redesign was very effective. I think if I had used the previous logo, the brand would have been unsophisticated. Dall-E and ChatGPT helped tremendously in saving time. The wireframe layout I used to create the homepage helped the design flow well. The attention to spacing throughout the homepage is also used in the package design and business cards. The textures really set the brand apart and make it feel unique.
What Didn't Work?


I think I would have shifted my target audience from artists to businesses so that I could have adjusted the overall aesthetic of the brand. I wanted mysterious and personal, but looking at the project afterwards, I think the product could benefit from a cleaner, minimalistic design. Something like the website for
ecovative
. I think I struggled at times to focus the visual identity because while I did create a moodboard, I would have liked to spend more time solidifying the visual identity before I started designing.
Ⓒ 2023 ASHLEY DAY | ALL RIGHTS RESERVED
For inquiries, please email me at hello@ashleyday.me